40G MTP/MPO Fiber Patch Panel is suitable for 10G Ethernet, 40G mobile network, fiber channel and high-end data center. Its front panel can be mounted 48 duplex LC fiber optic adapters, and the rear panel can be mounted with 12 MTP fiber adapters. The 40G MTP/MPO Fiber Patch Panel can accommodate up to 96 fibers.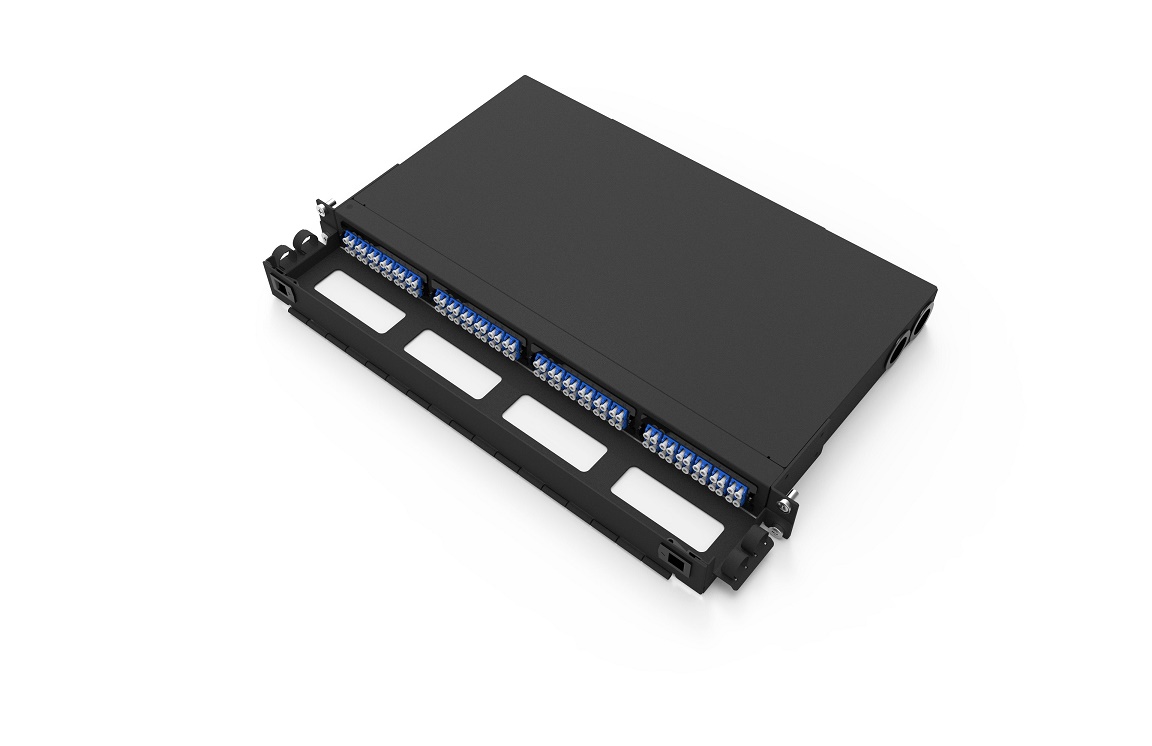 Generally speaking, in a 40G network, each 40G QSFP+ optical transceiver module needs to be connected to 4pcs of 10G SFP+ optical transceiver modules through 4pcs of duplex LC connectors. Therefore, in order to make the 40G connection simpler and more stable, the port on the 40G MTP/MPO Fiber Patch Panel are divided into 12 groups, and each group has 4pcs duplex LC ports, which can more easily realize the 40G connection.
As an ideal 40G fiber cabling solution, MTP/MPO fiber patch panel has many advantages such as saving space and cost, increasing cabling density, convenient management, strong flexibility, and protecting fiber optic patch cord from damage. It can also make your network easily upgrade from 10G to 40G and 100G.
40G 1U 96cores MTP Fiber patch panel realizes 4x10G LC cabling Solution
The 40G QSFP optical transceiver module can support the 4x10G optical signal transmission mode, so it can be compatible with the existing 10G SPF+ optical transceiver module. There are 12 ports of MTP interfaces at the rear of MTP fiber patch panel, of which there are 8 transmission interfaces and 4 duplex interfaces (4 transmission and 4 transmission). These interfaces are all connected to MTP fiber patch cord and switches. For the front panel connection, we can select 1 set (4) LC interface from 12 sets (48) LC interface, and use the LC duplex fiber patch cord to connect with the 10G SFP+ optical transceiver on the switch. The optical transceiver modules are connected. Therefore, 40G QSFP+ optical transceiver modules can be successfully connected to 10G SFP+ through 40G MTP fiber patch panel.
The 40G MTP fiber patch panel can connect the 12-core 40G MTP-MTP backbone fiber cable to the 48-core 10G LC duplex fiber optic patch cord. Therefore, a 1U height 40G MTP fiber patch panel can be realized 480G data transmission. Most importantly, the 40G MTP fiber patch panel is presented as a finished cable management, which can simplify the wiring process and provide higher cable capacity in a limited rack space.